You guys, this week. I can't. It's too hard. Let's just dive right into it.
The Governor is back, and in full-effect speechifying, making his case to get the RV-Army to go attack the prison. It's basically fear, scare tactics, lies, blah blah blah, prison, blah, more lies. While he speaks, we see him knocking out Michonne and taking her and Herschel hostage. When he tells the RVers about this, some are suitably wigged out.
He tells them that most of the people in the prison are thieves and murderers, also that they burned his camp and killed his daughter. One, you burned your camp, dude, and B, your daughter was already dead. Lily is the only one with a case of the wiggins severe enough to call him on any bit of his bullshit. She's going to have such a serious case of sex-regret someday.
In a camper, the Governor has Michonne and Hershel tied up while Mitch stands guard. He tells them to eat and that he won't hurt them, Hershel's response is the most dignified "Yeah, right." ever uttered. He also tells them he knows that his daughter was dead, Michonne is just all, "I'm going to kill you." Hershel tries to deploy reason, to echo the episode title, the Governor is too far gone to listen to any of that reasonable nonsense.
The Governor has his people circle the wagons near a river, saying that Lily and Meghan should stay there because "biters can't make it cross the water". Lily rocks more of that reason he won't listen to while Meghan makes peanut butter sandwiches in the mud. He really isn't perceptive enough to catch the "what the fuck?" body language from Lily.
Glenn is still recovering, he and Maggie joke about an anniversary trip, which really doesn't bode well for one or both of them. Love is punished in The Walking Dead universe.
Uh ohs! Rick is telling Daryl about banishing Carol from the tribe. Daryl is pissed, but maybe not as pissed as I would have thought. He's more having trouble with believing Carol would do it and looking after the girls. Rick lets Daryl know that he hasn't told Tyreese yet, and they go off to tell him together. They find him down in the basement, where he's found a gross, dissected, pinned-to-a-board rat. He believes whoever killed Karen and David did it, Rick begins to tell him that this is an entirely different psycho when a blast rocks the prison.
Sasha comes upon Bob sitting in a hallway, she wants to thank him for saving her. Bob demures, what with all the self-loathing, PTSD, alcoholic bullshit he has going on in his head. Sasha is also pretty weak from the sickness.
Outside, the Governor is calling out Rick. He's got the RV Army outside the fences with Mitch's tank. When Rick tells him there's a council now and he doesn't make the decisions, the Governor's all like, "Are these guys on the council? Hmmm? *mustache twirl*" As he trots out Hershel and Michonne. He says that Rick has to make the decisions today. A wubby heartbeat underscores our return as Rick nods to Daryl, and tells Carl "we can do this", and heads out to face a tank with a six-shooter like a motherfucking boss. Daryl tells Sasha and Tyreese to stick to their evacuation plans, but to wait as long as possible. Rick asks for their release, reasonably pointing out that the Governor has a tank and doesn't need hostages. They should have called this episode "No Country for Reasonable Men", or something. I really can't believe that after Rick tells them there are sick children inside who won't survive and the Governor's all "I HAVE A TANK! I AM VERY IMPORTANT!" That no one but Tara started to balk at following him. Clearly Rick is not the monster the Governor has made him out to be. Daryl is moving everyone into attack formation in the yard, handing out guns and touching Maggie's butt, don't think I missed that.
By the water, Lily sees a walker approaching from her perch on the roof of the RV, as she nervously watches for it to fall, Meghan plays in the mud. Meghan begins to call, asking her to help dig because something is too heavy. Seriously, this girl is dumber than Stay-in-the-House version Carl. We see that what Meghan was digging up was a "Caution: Flash Flood Area" warning sign. As she brushes the dirt off of it, a hand reach up out of the dirt. The face comes up in a scene that looks familiar, and is probably an homage, but I can't place it. The hand grabs Meghan and she starts to scream. Before Lily can reach her and shoot the walker, Meghan is bitten in the shoulder.
The Governor continues to talk, saying they'll win and everyone in the prison will be dead and that more walkers will just keep coming because of the noise. Rick tells him there's more than enough room in the prison. The Governor really doesn't give a shit, he just wants them all dead. Rick won't give up the prison, and now he's really talking to the RV Army about living together because the Governor is a jackhole.
Daryl gives Carl a lesson in patience while Mika, Lizzie and some other kid carry Judith out in a car seat heading to the bus. Lizzie says they should stay and help fight.
Rick tells him the walkers will overrun the fences and the prison will be worthless, under his breath, the Governor says "We'll fix the damn fences." as he jumps down, grabs Michonne's sword and puts it to Hershel's neck. You guys, I don't want to have to watch this again. Now he speaks directly to Tara, telling them former Woodburians are now leaders in the prison, he tells them to put down their weapons and come in, they'll be welcomed. He tells him everyone can come back from the bad things they've done, that they can all change. We see a proud smile on Hershel's face, and crap, my face is starting to leak, and, in a credit to David Morrissey, you can see a bit of an internal struggle on the Governor's face. He brings back the sword, looks at Rick, whispers liar and swings into the side of Herchel's neck. Not going to lie, when I first watched this, I screamed a little and covered my mouth. I didn't want to believe it would happen. The gentle spirit and innate goodness that Scott Wilson brought to Herschel was just, incredible. Rest in peace, Herschel, really, the best of them all.
The firefight begins, with Rick screaming no, shooting, Carl shooting and one of them catching the Governor in the arm. Everyone begins firing, on both sides. Herschel is still alive and crawling away when the Governor catches up to him and begins hacking away. Michonne cuts off her wrist bondage on a licence plate and Tara has frozen, dropping her weapon and hiding. We see Lily approaching, carrying Meghan's body. Alisha goes to Tara and tells her to fight and stay with her, Tara rightly notes that they shouldn't be fighting at all, and that the Governor cut a dude's head off. Alisha counters with the assertion that it's too late. The Governor takes Meghan from her mother's arms and shoots her in the head. Beth and Maggie fire through their tears of anguish.
Mitch renders the prison useless by rolling his tank over the fences so the remaining RVers can move in. Extras die on both sides. Maggie runs to get Glenn and the others out of the prison, telling Beth that they've all got jobs to do and hers is to get on the damn bus.
The Governor and Rick meet in the yard. I think I yelled, "Pound his fucking head in, Rick!" at some point. Tyreese is on his own in the garden. People are getting on the bus and off the bus, it's all very confusing. A walker approaches Daryl from behind as he shoots, my response, "Oh no! He CANNOT go out like that!" The Governor is getting the better of Rick. Walkers are converging on the noise. I'm pretty sure I yelled, "That's my boy!" when Daryl emerged using the walker as a, not a human shield, just a dead shield, I guess, to throw a grenade at the people near the tank. Tara freaks out and wonders away. Bob gets shot, and they see the bus drive away. Tyreese is still alone as Alisha advances on him in the pumpkin patch. Lizzie and Mika save his ass by shooting Alisha and an RV random, he tells them they have to get out of there and they run in the opposite direction of the bus.
The Governor is busy choking the life out of Rick when a kitana comes straight through his chest. Michonne to the rescue!
He asks where Carl is and stumbles away. Michonne leaves the Governor to the advancing Walkers, which is exactly what he deserves. Daryl tosses a grenade down the barrel of the tank, effectively killing Mitch's daughter and girlfriend before putting an arrow through Mitch himself. Beth runs up to Daryl and he tells her they have to go.
Rick stumbles through the carnage yelling for Carl, a walker approaches, but Carl takes that mother out. He asks about Judith, Carl doesn't know where she is and they come upon a really effing bloody car seat. Yikes, Walking Dead producers, Carl turns to fire on a walker, but Rick tells him it's over. As Carl weeps, they move out.
The Governor is laying, dying as the walkers advance, but Lily comes to him first and puts a bullet in his brain, then walks away. Oh, look, it's Moldy Irish Rose as a walker, remember her? In the woods Rick tells Carl not to look back to keep walking.
Holy shitballs, you guys! That's our mid-season. Once again, like a shitty long-distance relationship, we have to wait until February to see where we're at. I'm so. Just so many feels. All of the feelings. Sadness that Hershel is gone, righteous joy that the Governor is as well. I'm not even sure I've processed it all. Are we okay, guys? Let's go through the seven stages of grief via gif, that could help. Maybe.
1. Shock & Denial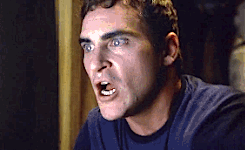 2. Pain & Guilt
3. Anger & Bargaining
4. Depression
5. The Upward Turn
6. Rebuilding & Working Through It
7. Acceptance & Hope
Do we feel better?
So, that's a no? Well, we've got until at least February 9 to work through this all. Til then, lovers!